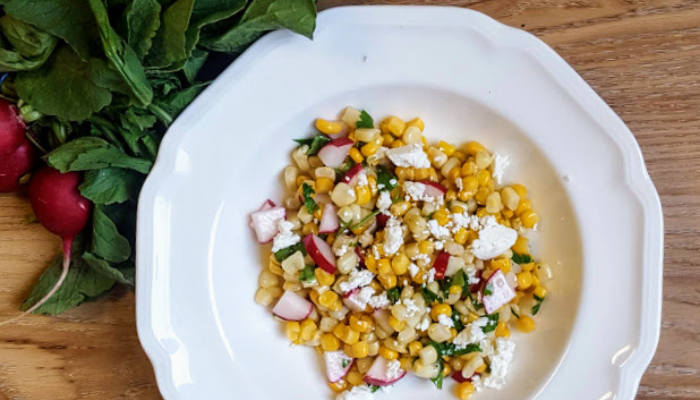 This fresh-tasting salad capitalizes on delicious ingredients like herbs and lime juice to pack in the flavor, while relying on corn to help your body recover. Corn is a great source of complex carbohydrate that helps replenish glycogen stores after working out. It also contains potassium to prevent muscle cramping and antioxidants (especially in dark yellow varieties of corn) to balance inflammation in the body! This recipe is extremely easy and comes together in less than 10 minutes. To save extra time, use frozen corn that has been thawed instead of husking and chopping corn on the cob. This salad keeps well in the fridge for up to 3 days without the cheese, which makes it great for make-ahead meal planning as well. Simply store in an airtight container then dish out individual portions and top with cheese when you are ready to eat! 
3. Whisk in Olive Oil, Salt, and Pepper
5. Stir in Radishes, and Cilantro.
6. Top with Crumbled Queso Fresco
Get the most from all your


What's up fitness fam! You might have noticed links on our website for various products. We wanted to let you know that we do this to keep our website ads-free. Obviously, nobody likes the pesky clutter of ads so instead, we simply put links to related products so that you don't have to go searching if you want to buy something related to the post you are reading. As you probably guessed, yes we do get a commission if you buy something through our link, but here is the great news, it does not cost you any more! That means you can buy things you already wanted, support our business for free, and not have to deal with annoying ads! It's a win, win, win! (If you really want to help us out you can use our link whenever you shop Amazon by clicking here and bookmarking the page.) If you would like to read all the technical mumbo-jumbo behind our links you can click here.