Recover Like: World Cup Champion Jessica McDonald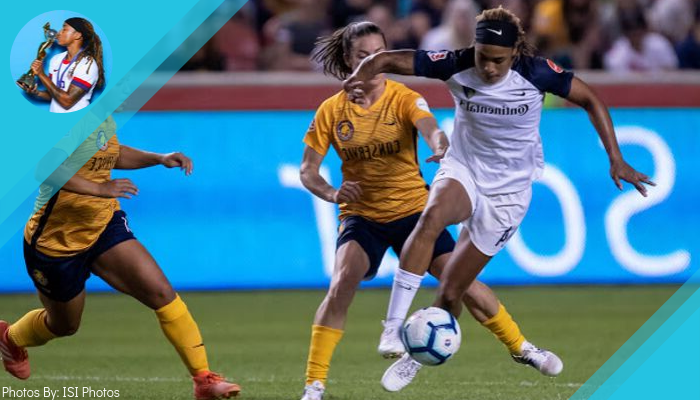 Kids always dream of one day being the best of the best in their sport. If that dream becomes a reality they have something special going for them. Professional soccer player Jessica McDonald lived that story. Taking the hard work, no short-cuts route, Jessica has made a name for herself most notably by representing the World Cup Gold medalist United States Woman's National Soccer Team. What is her special factor now? The gold medal for being the only National player who is also a mom.
The future is changing how we think and do recovery. Riding the wave is Jessica McDonald. Not wanting to leave any stone unturned Jessica attributes her longevity in sport to the transforming science of workout recovery. If you are looking for the stereotypical example of recovery tech, recovery supplements, and recovery relaxing look no further. 
What does a typical recovery/training day look like for you?
Being a professional athlete means each of my training sessions is very high intensity. A lot of ball work, strength training, and fitness. Anything that requires an elite athlete to be at the top of their game, you name it, we do it. Now that I am 31, my entire recovery routine has changed in comparison to three years ago when I was in my twenties. I have to do everything possible to recover because it takes me longer to recover than when I was younger. With that said, my recovery typically depends on my training day. Most days my team the North Caroline Courage will practice once. Although, each week we will do a two-a-day session which consists of weightlifting and soccer practice. After practice, I will decide whether to use NormaTec's Recovery Boots, Game Ready Therapy Systems  icing, ice bath and/or compression garments. My favorite would have to be compression. Another key is eating healthy foods and drinking great recovery shakes. Refilling my body with good stuff is essential to helping me recover. Cryotherapy is another big one. Cryo plays a huge role in my recovery especially if I am not getting good sleep. Next, I would say massages which flush out any kind of soreness that I have. Once again massages are another huge part of my recovery.
What part of your training is the most difficult?
Strength training is difficult, especially since our coaches change our exercises. Being a little bit older my body does not work the same way it would for a younger teammate. I like when we get into a strength training program and are consistent with it because my body adapts to it. When our coaches change the program, things like my knees have to wake up again and they start to ache. That is the most difficult function of training. 
How does your recovery change based on game-day and traveling?
Gameday is a lot more work than a regular training session. Immediately I will get into compressions gear. Sometimes I will sleep in my gear depending on how sore I am after the game. I also ice bath longer than I normally do after games in addition to stretching after a game which is huge. With regards to traveling luckily, the NormaTec Boots and Game Ready Therapy System come with us when our team plays in other locations. We only have one trainer so she can only bring a limited amount of equipment, but what she does bring is wonderful. Also, myself, as well as most of my team, have airplane tight or compression socks to put on. All of this is great, but one of the bigger challenges is recovering from changing timezones. 
What your most important recovery tool and favorite recovery technique?
The most important for me would be getting a massage because it flushes everything out and triggers the major muscles. I am a big fan of massages. I love the feeling of a lot of pressure. My favorites are NormaTec Compression Boots and the Game Ready Therapy System. Game Ready is huge being a compression/cold/recovery machine. All of which my team provides.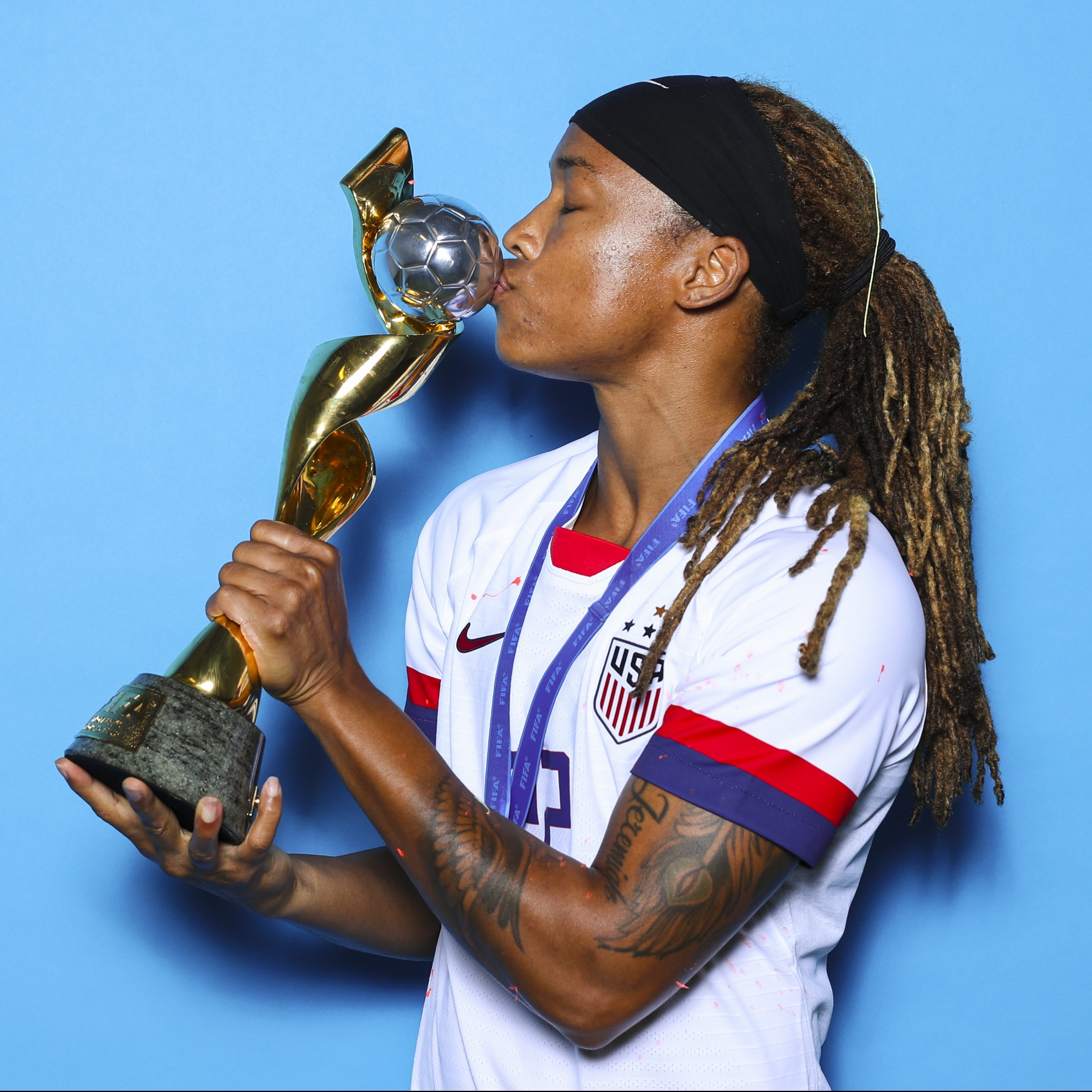 Where do you place most of your focus for recovery, mental, physical, or nutritional?

 
Defiantly all three. That is what gives me longevity. There are times I find a way to release mental stress and when it comes to nutrition I have to eat healthily. If I would not have eaten healthy through my career I probably would not be playing professional sports now. Then as I have mentioned the physical part of recovery. I am older and my body does not work the same way as when I was in my early twenties. There are parts of my body I did not know existed until they became sore. Being smart about all three of those aspects of recovery is important for performance. 
Do you organize recovery with your team the North Carolina Courage?
Most of my teammates do their own thing. That is one of the best parts about being a pro, at this level they allow you to do your own thing. Whatever I need to do for recovery I can do it. Everybody has different bodies. A lot of my teammates recover differently than I, for example, it takes me a couple of days to recover whereas some of my younger teammates only require a few minutes. My team is smart about allowing everyone to their own thing. 
How did the World Cup change your recovery?
During the World Cup, the national team provided a massage therapist right on site which was awesome. Right after a game my teammates and I could get a flush instead of having to wait until the next day or a couple of days after the game. Getting a flush immediately after our competition was a total game-changer. I would also say having multiple NormaTec's and Game Ready's available was convenient. On my professional team, there is only one NormaTec and Game Ready among the 26 of my teammates and I. Having so many meant we did not have to trade or wait. With regards to training, our coaches were smart to variate the level of practice intensity depending on the day and how far away games were. One cool thing was how the National Team would have us recover together on certain days, whereas on my professional team we do our own thing. 
How has your recovery changed over your career?
When I was younger I did not do recovery. When I was young I could get up and go and when I finished I could get up and go again. My body was capable of doing that. Even in college, I did not do much recovery other than the occasional ice bath. Now that I am a pro I have realized just how important recovery is. For example, I now know that stretching is important and I make it a part of my routine. Even learning about my own body, the anatomy of myself and the importance of different types of recovery regimens. I should also point out that somethings that I am doing today we did not have back when I was younger. Cryotherapy did not exist eight years ago neither did NormaTec's or Game Ready. Those are some of the biggest difference between 10 years ago when I was a rookie to now. One of the biggest changes is having a son now. When I get to see him, it is greatly relaxing. Not every day I have a great training session which is frustrating and stressful. When I come home to my happy, joyful, vibrant son I feel just seeing him is stress-relieving. Having a son is a huge part of my life and career. He gives me the mental stability I need.
How did working another job previously affect your recovery?
When I was working it added so much stress that negatively affected my recovery. My job at Amazon was packing boxes. I would work 11 hour days on my feet with no chairs and it was a horrible experience for my legs trying to recover from training and standing all the time. The whole process was stressful.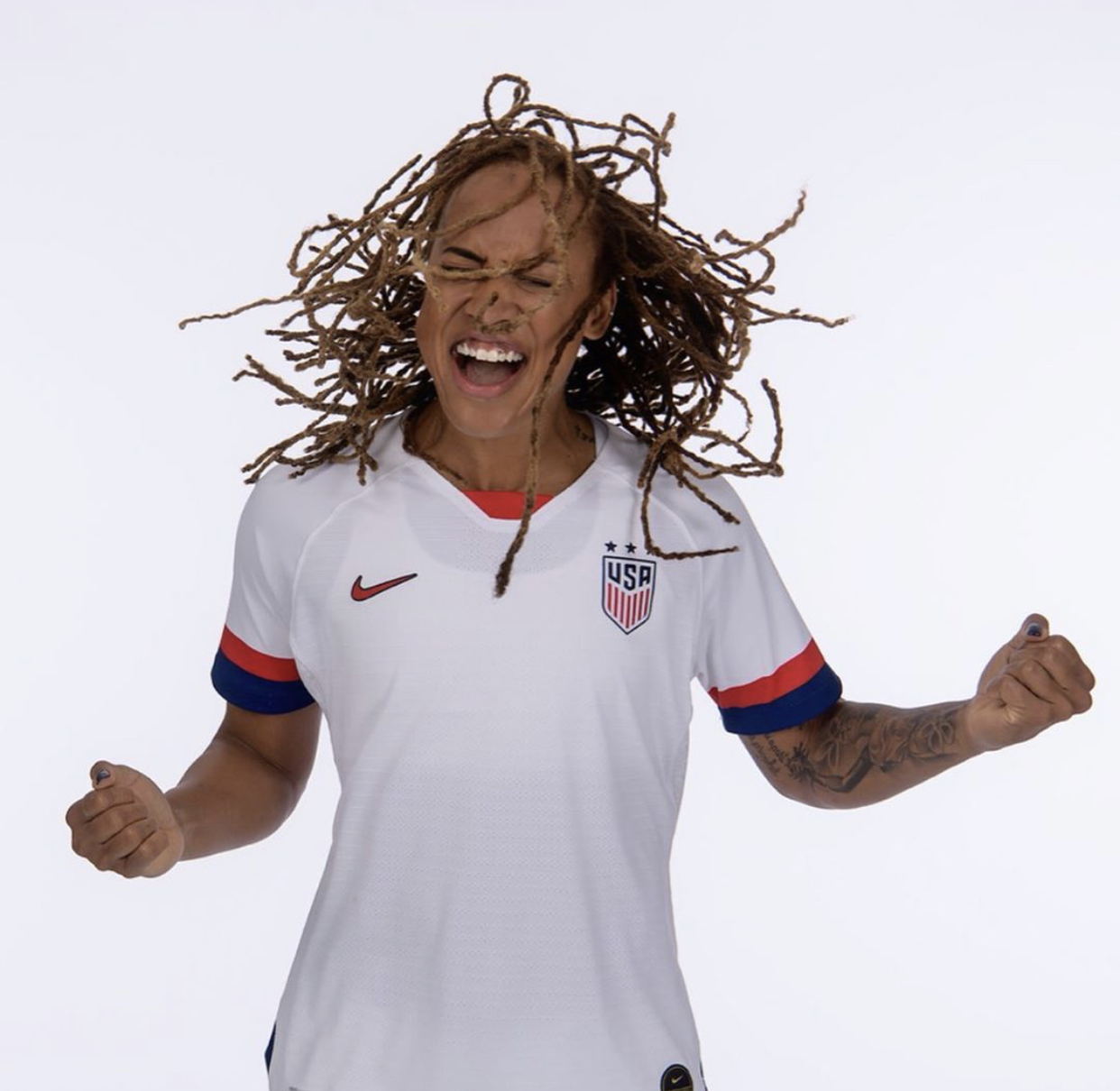 How does your faith affect your recovery?
I am a Christian, and when you look at my daily life and routine it can be hard. Life is hard, and there are things that as human being we need to have. Maybe it is a good support system, for me, it is my faith. We, as humans, need to take care of ourself on a mental level. Life, in general, is mentally challenging. What I can rely on a daily basis is God. I put everything into His hands even when things do not go right, tomorrow is a new day and everything is in God's hands. God has helped me get through hardships, setbacks, adversity, whatever you can think of. I rely on God because I know it is in His hands. I would even say that trusting God is a part of my mental toughness.
What does your recovery nutrition look like?
Being a mom I can only spend so much time cooking especially when my kid is with me. What I like to do is prep overnights oats on Sundays for my breakfast throughout the week. I love oatmeal, it is easy to make. When it comes to eating post-workout a lot of times I have leftovers from home. I also have another great option which is a nutritional place about ten minutes from my team's training fields. They offer a variety of recovery shakes, protein shakes, and meal replacement shakes. With that said, primarily, my focus is on whole foods. I love vegetables. Surprisingly my son also loves vegetables which makes everything easier. I also am a huge fish eater. Usually, I get my protein from all sorts of fish. Occasionally I will eat chicken. When it comes to carbs I focus on whole grains. Brown rice is my thing. Frequently I will eat the same thing, switching it up now and then. Despite eating healthy, my son and I will still have taco night like normal people. The home-cooked meals are the best, and I try hard to stick to them.
Do you use any supplements or health products?
Three of my favorite go-to health bars are Creamy Dreamy Peanut Butter Luna Bars  Crunchy Peanut Butter Cliff Bars  and Peanut Butter Dark Chocolate Kind Bars  When it comes to supplements Thorne products are what I normally have. They are provided by the World Cup National Team and my pro team as well. Thorne is a huge sponsor for US soccer, and that helps save money since supplements are expensive and I can instead spend my money on whole foods. I eat so much. If people saw what I ate for dinner they would be amazed. Sometimes my friends tell me that I eat like a linebacker.
What is the most important tip you would give any athlete?
Nutrition is huge and unfortunately, a lot of people have false information on nutrition. I understand that ramen noodles are the easy route because it is cheap, but so are green beans. Being able to balance out a budget and nutrition plan is doable. Simply walk into the produce section, things are not as expensive as you might think. Specifically for our nation in general, we need to change the way we think about diets and nutrition. What you put into your body is a huge deal, especially when you are working hard.
Any last words for our readers?
Hydration. Yes, hydration is key. Water is an extremely important part of the human body. If you are trying to get in shape you need to drink water. It should be a huge part of everybody's lives. I would pass out if I did not have any water for a day. I need water to survive as a professional athlete because is a big percentage of water. I sweat so much. I lose four to six pounds per training session.
Get the most from all your
Game Ready Therapy System
Thorne Nutrition Supplements
Kind Peanut Butter Dark Chocolate
What's up fitness fam! You might have noticed links on our website for various products. We wanted to let you know that we do this to keep our website ads-free. Obviously, nobody likes the pesky clutter of ads so instead, we simply put links to related products so that you don't have to go searching if you want to buy something related to the post you are reading. As you probably guessed, yes we do get a commission if you buy something through our link, but here is the great news, it does not cost you any more! That means you can buy things you already wanted, support our business for free, and not have to deal with annoying ads! It's a win, win, win! (If you really want to help us out you can use our link whenever you shop Amazon by clicking here and bookmarking the page.) If you would like to read all the technical mumbo-jumbo behind our links you can click here.